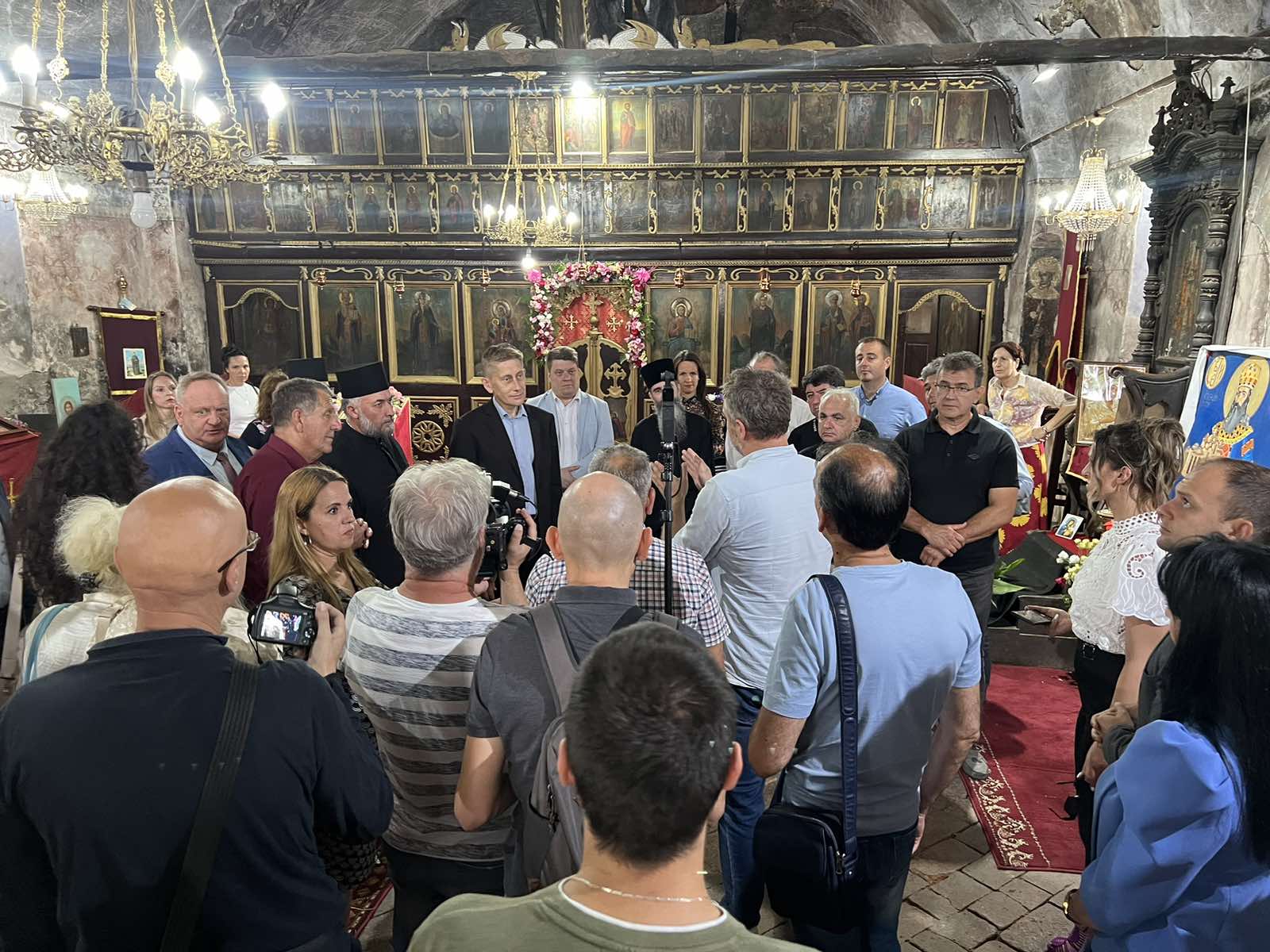 The Minister of Public Administration and Local Self-Government, Aleksandar Martinović, PhD, has attended today the traditional People's Assembly on the occasion of the celebration of the Holy Friday of Thorns in the village of Rudare in Leskovac. At the same time, together with the mayor of Leskovac, Goran Cvetanović, the minister has visited the Rudare monastery church, dedicated to the venerable martyr Paraskeva – Saint Petka, as well as the ruined building of the old Konak, parts of which were further destroyed by fire.
Expressing his satisfaction that he is at the Rudare monastery on today's great Christian holiday, Martinović has pointed out that the Church of Saint Petka is one of the oldest churches in this region, and added that the Serbian people were sustained by their faith.
Martinović has emphasized that Leskovac is the centre of the Jablanica Administrative District and one of the most important cities in the southern part of Serbia, as well as that it is an example of good cooperation between the State and local self-government, and it was this synergy that led to the fact that this city looks completely different today compared to 2012.
"The socio-economic progress of the country and the well-being of all citizens, without discrimination, is the priority of the entire Government of the Republic of Serbia, which, together with the local self-governments in the southern part of the country, had invested extra efforts, thanks to which this region experienced prosperity in the past few years, but as noted by the President of the Republic of Serbia, Aleksandar Vučić himself, it is necessary to invest even more in the development of cities and municipalities, primarily in the southern part of the country, and to attract direct foreign investments", Martinović has said.
The minister has also attended the presentation of domestic products at the stand of Ivica Zdravković, and had also visited the works on the paving of 20 kilometers of road in the village of Strojkovce, which commenced last year and were resumed today, and which were supported by the Government of the Republic of Serbia with RSD 400 million.
During his visit to Leskovac, Martinović held a meeting with Mayor Goran Cvetanović and his associates, and donated laptops to the city in order to encourage the development and functioning of e-administration. Also, the minister had visited the One-Stop-Shop in Leskovac, for the establishment of which MDULS had invested RSD 6.5 million.
Photo gallery – source: MDULS