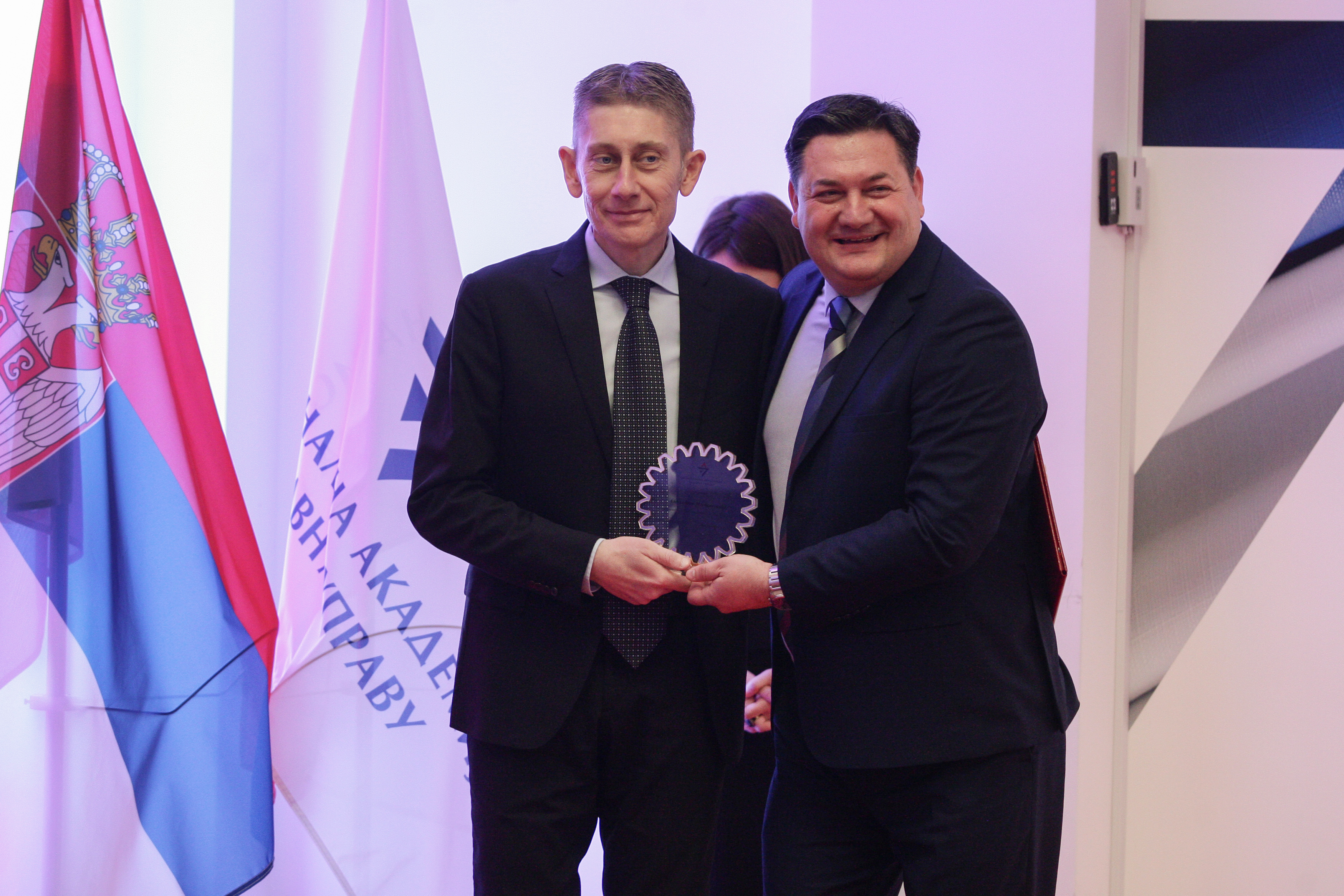 The Minister of Public Administration and Local Self-Government, Aleksandar Martinović, PhD, had received an award today on behalf of the Ministry of Public Administration and Local Self-Government for supporting the development of NAPA at a ceremony marking the five year anniversary of work of the National Academy for Public Administration.
On that occasion, in his address, Martinović has emphasized the importance of NAPA and its role in implementing one of the most successful Public Administration Reforms – the reform of professional development, which from the very beginning has had the great support of Prime Minister Ana Brnabić, state and local self-government bodies, and above all of the employees who, in NAPA, recognized the potential for building their personal and professional capacities and career advancement.
"We can be very proud of the achieved success, because the National Academy for Public Administration had, in a short time with its work and results, confirmed that we planned and coordinated the reform process well. Over the past five years, more than 60,000 students have improved their knowledge and skills at the Academy. Today, the National Academy for Public Administration is a real "house of knowledge for all employees of our public administration", and a place where the culture of learning is nurtured and spread, without which there can be no growth nor progress and taking the desired step ahead of the needs of our citizens and the economy," Martinović has said.
In congratulating on the joint success, Martinović has expressed his thanks to European institutions, schools for public administration and the donor community, who with their valuable knowledge, best practices and support projects aided the Academy in becoming a respectable institution at the international level.
At the celebration of the anniversary of NAPA, the attendees have been addressed by H.E. Annika Ben David, the Ambassador of the Kingdom of Sweden to Serbia, Klaus Fiesinger, Regional Director of the Hanns Seidel Foundation for Southeast Europe, Yakup Beris, UNDP Resident Representative in the Republic of Serbia, and Dejan Miletić, Acting. Director of the National Academy for Public Administration.