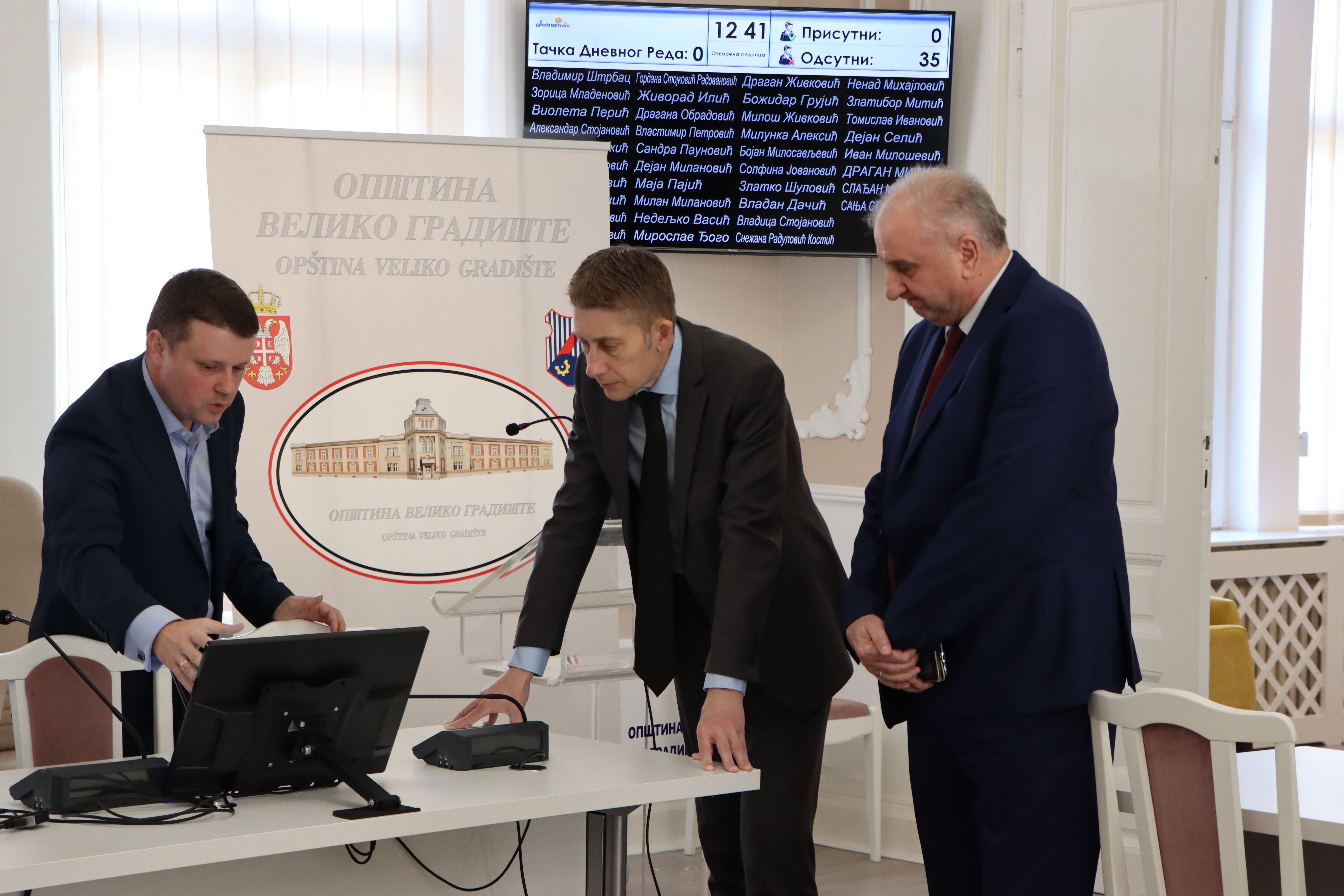 The Minister of Public Administration and Local Self-Government, Aleksandar Martinović, PhD, has visited Veliko Gradište today, where he toured the sports hall on Srebrno jezero, in the construction of which the MDULS had invested around RSD 18 million, as well as the assembly hall, which was modernized with the help of the Ministry by introducing a system for conducting electronic sessions.
Noting that the sports hall construction project was one of the most significant projects in this region, Martinović has stated that the Republic of Serbia, including the Ministry he heads, had invested considerable funds in the development of Veliko Gradište, and that many more high-quality projects are planned to be implemented in this part of Serbia.
"The Government shall continue its cooperation with this municipality, which primarily has an enormous tourism potential. Our task is to ensure that Serbia develops evenly, and for the citizens to stay in their hometowns and build a life worthy of a human being. We are working on ensuring that smaller municipalities reach the level of development of large cities. There is no need to differentiate between Belgrade and Veliko Gradište or any other local self-government – all that the City of Belgrade provides to its citizens, Veliko Gradište should be able to provide to its citizens as well," Martinović has said.
He has pointed to the fact that the President of the Republic of Serbia, Aleksandar Vučić, has commenced with his grand tour of Serbia from the south of the country, which is a clear indication that the state takes care of underdeveloped parts of the country and strives to provide the citizens in all parts of Serbia with decent living conditions. As he has stated, certain municipalities have not seen any investments for decades, but thanks to the enthusiasm and energy of President Vučić, Serbia has started its economic development in 2014, which continues even today, despite the great challenges which the entire Europe currently faces.
During his tour of the village of Kumane, one of the settlements in Veliko Gradište, Martinović has pointed out that the Ministry of Public Administration and Local Self-Government had financed the rehabilitation of the public lighting system in the entire area of this municipality, by which it had shown that it does not differentiate between urban and rural areas and that it cares equally about the well-being of all citizens, no matter where they live. He has added that Veliko Gradište and the local leadership can always count on the Ministry to be its stable and reliable partner, and has expressed his belief that, in the near future, the citizens of this municipality will also receive a One-Stop-Shop, which will make it significantly easier for them to exercise the numerous rights they have before the public administration and local self-government bodies.
Photo gallery – source: TV Mlava