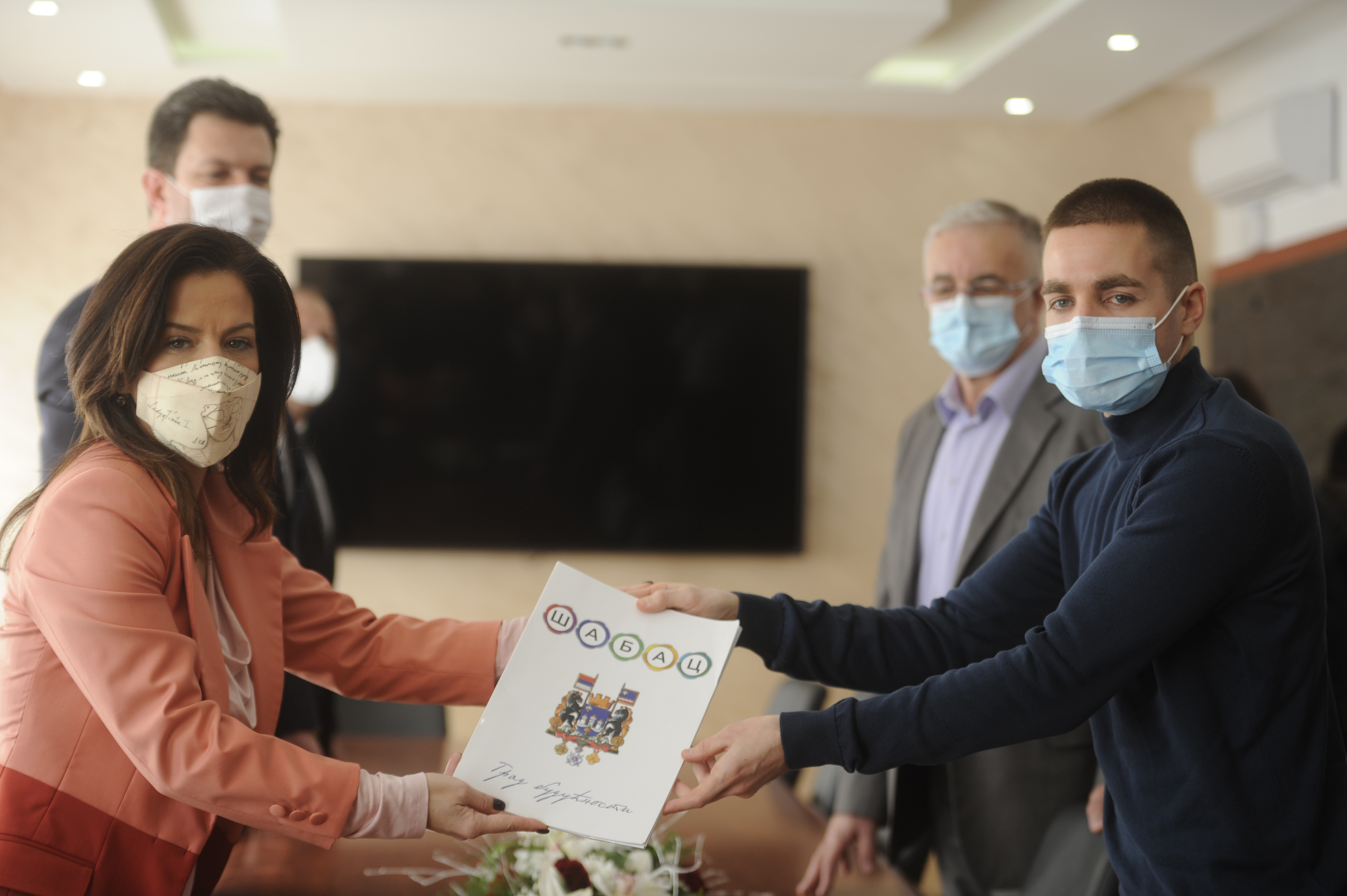 MPALSG Minister Marija Obradović visited Šabac today, where she had talks with the city's administration, visited the One-Stop Shop and presented an Employment Contract to Mr. Nikola Ninković, a blind citizen of Šabac who will be employed by the City Administration to develop software which will be used for recording documents issued by civil registry services.
The Minister met with the Mayor of Šabac Dr. Aleksandar Pajić to discuss projects the city intended to implement in the coming period, investments and ways in which the MPALSG could help the city of Šabac.
Ms. Obradović also visited the One-Stop Shop (OSS), which had been opened a year earlier to the day, and witnessed first-hand that this, the most popular of the MPALSG projects among Serbian municipalities and cities, worked flawlessly in this city and the city's administration had become a true service provider for its citizens.
On this occasion, Minister Obradović was introduced to Mr. Nikola Ninković, a blind citizen of Šabac who lost his eyesight to a disease, but who nevertheless continues developing a web-based app which would enable full digitisation of all documents issued by the civil registry service. To honour the occasion, Nikola Ninković signed an Employment Contract today and will be employed by the City Administration of Šabac.
"Nikola's story is one that must resonate across Serbia and I see this as a crucial step, one which will motivate and commit other cities and municipalities to find such young, active and energetic people in their midst, people who, regardless of their disabilities, are more than capable of contributing greatly, helping their fellow citizens and working for the common good. This is the day when Nikola becomes Serbia's hero and I expect many similar heroes to follow suit across our county", Minister Obradović said.
She added that the City Administration had a duty to digitise all records and save citizens' time and money and expressed her admiration for Nikola, who had made additional effort and demonstrated great strength and determination to accomplish his goals.
During her visit to Šabac, Minister Obradović once again called on its citizens to register for immunization on the e-Government Portal, so they could reach collective immunity as soon as possible and to contain the COVID-19 pandemic. The Minister of Public Administration and Local Self-Government will end her official visit to this city by visiting a vaccination point.