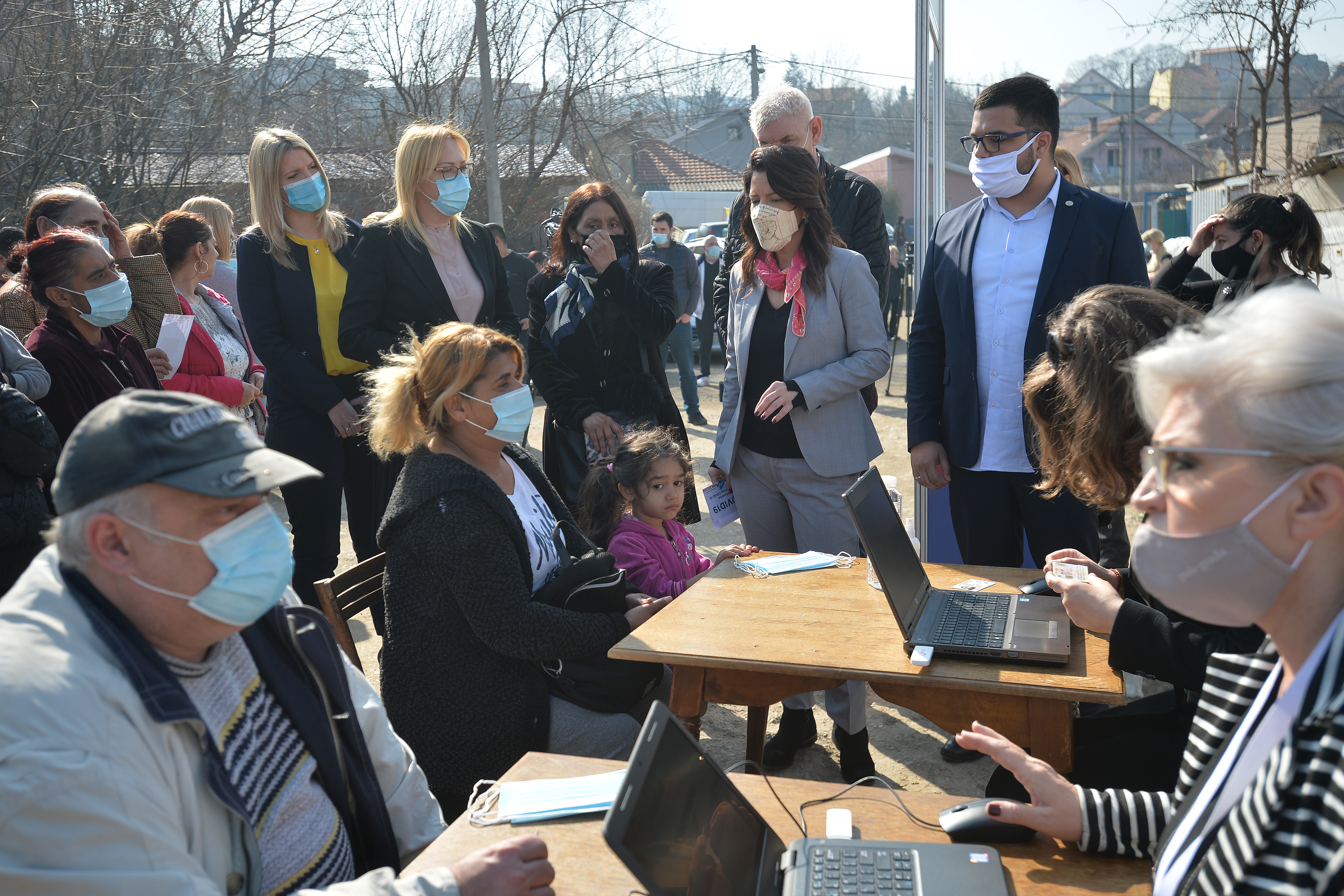 "I expect people to be reassured, after the initiative we have launched today, that the State is fully committed to supporting all population groups in the process of immunisation against COVID-19", said Minister Marija Obradović today after visiting Marinkova Bara, one of the substandard Roma settlements in the territory of the City Municipality of Voždovac.
Minister Obradović, State Secretary Mr. Stevan Gligorin, as well as President of the Municipality of Voždovac Ms. Ivana Tomić, President of the Council on Social Affairs Mr. Vojislav Stokić and Mr. Zvonko Mitrović, a representative of the Roma community, talked to inhabitants of Marinkova Bara to familiarise all those interested with the process of registering for vaccination against COVID-19 on the e-Government Portal and via the call centre.
The Minister said the first step in the inclusion of the Roma population in the immunisation process had been an online programme produced by the MPALSG in cooperation with the organisation Opre Roma Serbia, while in the coming days all cities and municipalities would be given clear instructions as to how to cooperate with the Roma community on this issue. Also, the Ministry called on all cities and municipalities from disconnecting the inhabitants of substandard settlements from the electricity grid and to provide them with access to drinking water.
"We need to be in touch with the vulnerable groups, to register the people who wish to be vaccinated and to enable them to do so", Ms. Obradović.
State Secretary at the MPALSG Mr. Stevan Gligorin said today's efforts were just the beginning of an initiative to protect the health of the Roma community in Serbia, adding he would visit Roma settlements in the coming period to come up with a sound plan to protect people's lives and health.
Interested inhabitants of Marinkova Bara had an opportunity to register on the e-Government Portal and state they wished to be vaccinated against COVID-19, with support from volunteers organised by the Municipality of Voždovac, who were provided with laptops and offered assistance at points set up by the Ministry. It was also an opportunity to discuss other issues faced by the Roma community in Serbia with the Minister.
The Minister once again advised all citizens to observe the protective measures, called for greater discipline and announced that inspectorates would step up their inspection efforts across Serbia in the coming days, in view of the alarming situation and the fact that the fight against COVID-19 could only be won by observing the protective measures and advice given by medical doctors and experts.