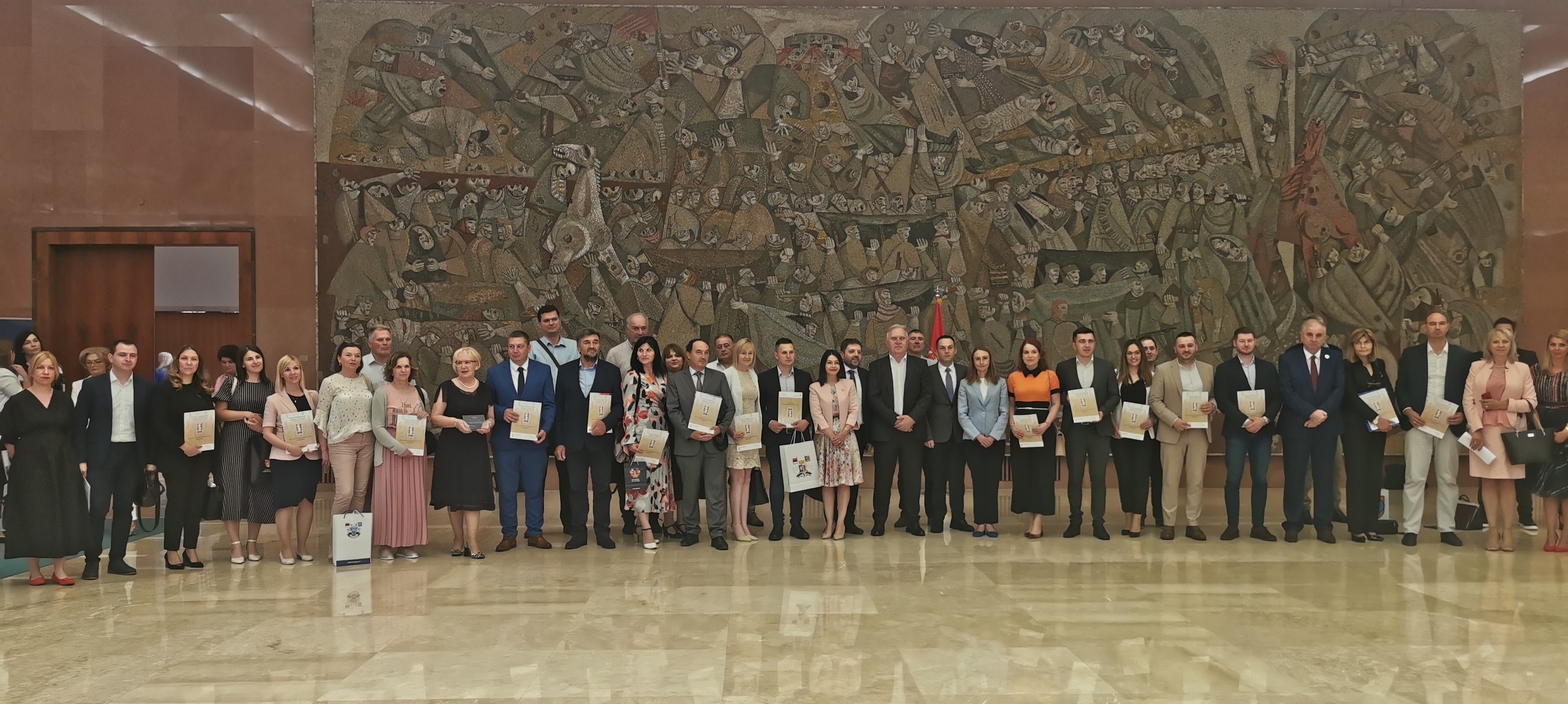 Today, the Government of the Republic of Serbia, in cooperation with UNICEF, with the support of the LEGO Foundation, has launched the second phase of the Playful Parenting Programme, which will cover 28 LSUs in Serbia, through the Project "Support to Local Self-government Units in developing and shaping of playful parenting related policies and practices", which is implemented by SCTM as an implementation partner within the Programme.
On behalf of Minister Marija Obradović, the State Secretary of the Ministry of Public Administration and Local Self-Government, Čedomir Rakić, who is also a member of the Programme's Board of Directors, spoke at the ceremony held on this occasion.
Speaking about the support to Local Self-government Units for developing and shaping of playful parenting related policies and practices, he has pointed out that the Ministry had, in the period from 2019 until now, allocated almost RSD 270 million from the Budget Fund for preschool institutions and primary schools, children's playgrounds and other facilities and priority projects aimed at raising the quality of services provided by local administrations to parents, in 20 cities and municipalities in Serbia.
According to him, five times more funds have been allocated from the budget than ever before for such projects in this year, which are carried out with the intention of improving the conditions of children's stay at institutions which foster their growth and development, and for parents to rest assured that the State equally takes care of all LSUs in Serbia, with the aim of reaching the standards in smaller municipalities which already exist in big cities.
MDULS also encourages and supports all LSUs to use modern technologies, stressing that it is important for every eService, such as the eBaby service, as well as electronic enrolment in kindergartens and schools, to be available to citizens in all cities and municipalities throughout Serbia, the State Secretary of the Ministry has said.
He has expressed his belief that the experience of the five pilot cities and municipalities, in which the project has already been implemented, shall be successfully transferred to the new 28 LSUs, so that they too may introduce a series of measures and policies in their work to the benefit of children's development and satisfaction of their parents, noting that MDULS shall remain a credible partner on such projects.
Novi Sad, Kragujevac, Novi Pazar, Vranje and Bor are Local Self-government Units which have successfully implemented the Programme in the first phase, which is why they received awards today. Also, the Association of Nurses of preschool institutions of Serbia, the Institute of Public Health of Belgrade and the Republic Institute for Social Protection were awarded, while Memoranda of Cooperation for inclusion in the Programme have been signed with 28 LSUs. Today's gathering was organized by the Ministry of Family Welfare and Demography, with the support of UNICEF and SCTM.