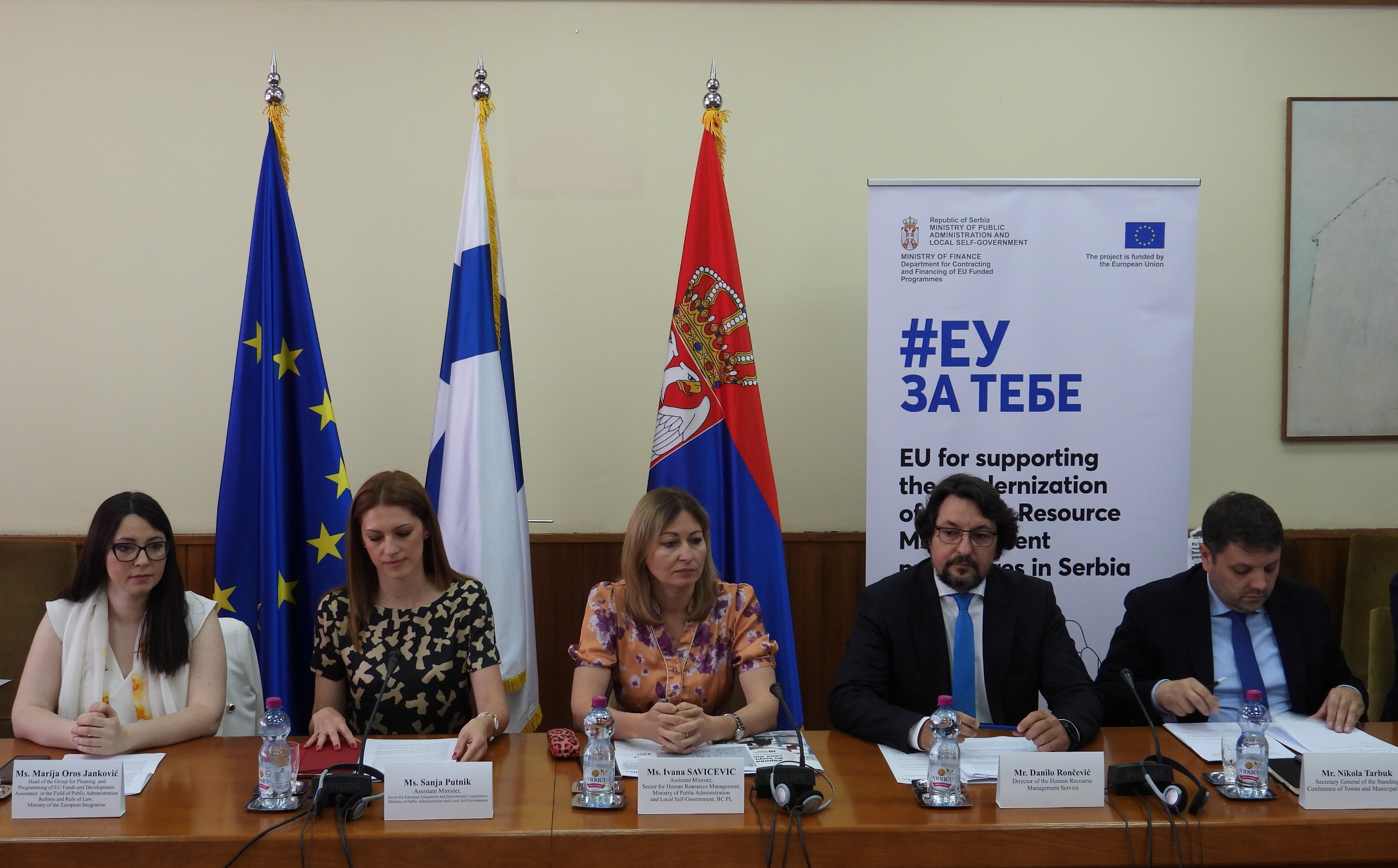 The goal of the Twinning Light Project is to provide support for the transposition, implementation and enforcement of EU legislation, which is a way of building the capacities of public administrations of beneficiary countries during the accession process, and shall result in progressive and positive development in the region, as announced at today's presentation of the project "Support to the Ministry of Public Administration and Local Self-Government in modernizing the personnel planning procedure for Public Administration and harmonizing the Catalogue of titles in Public Administration and Local Self-Government Units".
The project is financed by the EU, while the main beneficiary is the Sector for Human Resource Management at MDULS, in cooperation with the Department for Contracting and Financing of EU Funded Programmes of the Ministry of Finance, while the project partners are Human Resource Management Service (SUK) and SCTM. The selected EU Member State in charge of project implementation is the Republic of Finland.
The Assistant Minister of Public Administration and Local Self-Government, Sanja Putnik, has expressed her belief that the exchange of experiences, knowledge and best practices through this project with colleagues from the Republic of Finland shall contribute to the further implementation of reform processes and the creation of an "Administration tailored to all of us", bearing in mind that the importance of systemic regulation personnel planning procedure and salary system reform have been recognized in the Public Administration Reform Strategy 2021-2030 and the Action Plan for the Implementation of the PAR Strategy 2021-2025.
The Deputy Head of Mission at the Embassy of Finland in Serbia, Lassi Härmälä, has stressed that Twinning is an excellent way for civil servants from the EU and partner countries to learn from each other, adding that a prerequisite for a successful project is trust between project partners.
"Trust is the key word we use when we are asked what we do to make Finnish society and public administration work well. As a tax payer of Finland, it gives me great satisfaction to know that civil servants are doing their jobs diligently, ethically and in accordance with the envisioned standards. The processes should be open and transparent, both in terms of working with the beneficiaries as well as when it comes to internal processes within the public administration," he has said.
The Assistant Minister of Public Administration and Local Self-Government, Ivana Savićević, has participated in the working part of the meeting, as well as representatives of the EU Delegation to Serbia, SUK, SCTM and of the Ministry of European Integration.
This project consists of two components – presentation of best practice in the field of personnel planning and exchange of experience in relation to the job catalogue, with the aim of sharing the good practice of EU with beneficiary public administrations, and encouraging long-term relations between the administrations of existing and future EU countries